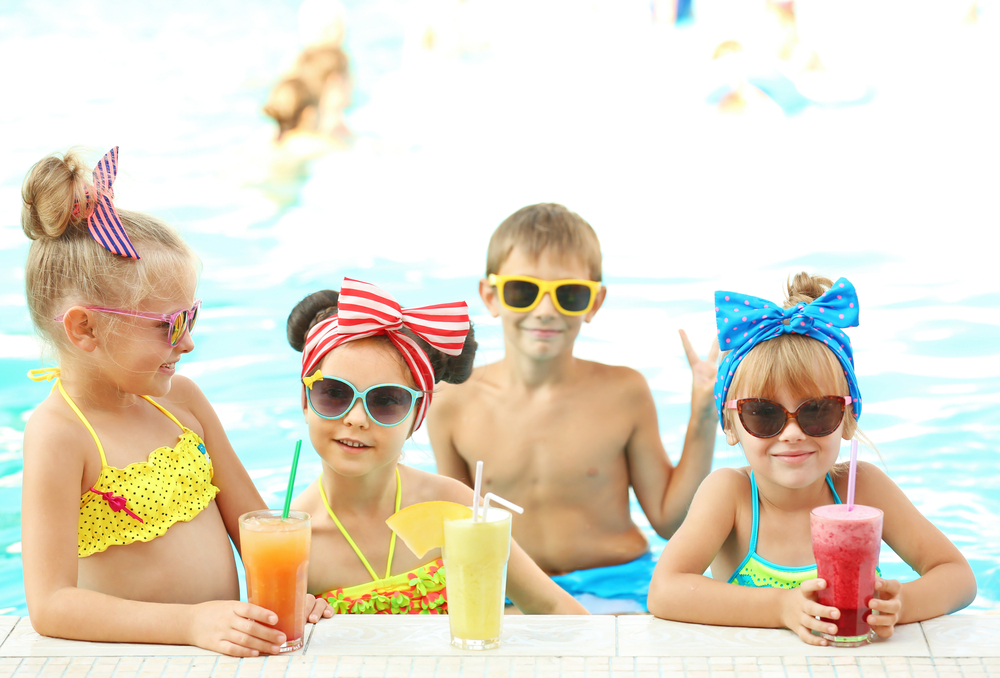 Celebrate Independence Day this year with a 4th of July pool party!
We think it's time to let loose and celebrate the holiday with your friends and family poolside.
Swim 'N Fun offers these suggestions for bringing sparkle to your party:
•Make sure that your pool and pool deck are ready for the party. Clean up the pool deck, place the furniture, and get ready to party. Then, double check your pool to make sure that it is sparkling clean for your guests. Check the chemicals, sweep it, vacuum it, and run the filter.
•Decorate with red, white, and blue decorations.
•Get ready to grill! The Big Green Egg offers many grilling options for this holiday.
•Don't forget the side dishes
•Have drinks available (non-alcoholic and alcoholic if you'd like)
•Pool toys and games are always welcome
•Have a patriotic soundtrack combined with good dance music
•Top off the day with desserts
•Set-up a movie screen (a large sheet, wall, or inflatable screen work) and project a movie (Independence Day is a good one) and watch it while swimming in the pool
•Watch the fireworks together
Decorate your yard and pool deck for your party!
Hang red, white, and blue banners, string up lights, use American flags, and have red, white, and blue tableware. For even more fun, paint red, white, and blue stars on your lawn. Check out the directions here, http://www.theconcretecottage.com/2013/07/painted-lawn-stars.html. Don't forget to stock up on red, white, and blue floats, balls, and tubes too!
Up your grilling game with the Big Green Egg.
We are a dealer for both the Big Green Egg and the Green Mountain Pellet Grill. We also have a large inventory of pellets, sauces, spices, and accessories. Have a variety of side dishes ready to go. Have friends and family bring one to share as well as having a few on hand. Here's an idea, fill up red, white, and blue balloons with water and freeze them. Then, use the balloons as ice. Place the balloons in a tray and then put perishables around them.

Don't forget the drinks!
It's your choice on whether to offer alcoholic beverages as well as non-alcoholic beverages. There are many ways to make your drinks festive. Here are a few suggestions:
•Red, White, and Blue Pina Colada – https://www.3yummytummies.com/red-white-blue-pina-colada/
•Red, White, and Blue Sangria – https://www.recipegirl.com/red-white-and-blue-sangria/
•Captain America Kids Drink – https://www.awortheyread.com/captain-america-kids-drink-celebrate-red-white-blue/
•Firecracker Milkshake – https://www.delish.com/cooking/recipe-ideas/recipes/a42978/firecracker-milkshake/
Bring out your pool toys or refresh your stock with red, white, and blue options such as floats, tubes, dive sticks, beach balls, and pool noodles. Combine a patriotic soundtrack along with good dancing music and turn up the tunes. Don't forget the games! A fun option is this 4th of July flag balloon dart game, https://gigglesgalore.net/4th-of-july-flag-balloon-dart-game.
Top off the day with plenty of desserts!

Don't forget watermelon, popsicles, and cupcakes. These are also fun options:
•Red, White, and Blue Chocolate Dipped Strawberries – https://bakingbites.com/2009/07/red-white-and-blue-chocolate-dipped-strawberries/
•July 4th S'mores Dip – https://www.delish.com/cooking/recipe-ideas/recipes/a53914/july-4th-smores-dip-recipe/
•Swirled red, white & blue cookie bars – https://butterwithasideofbread.com/patriotic-cookie-bars/
•Patriotic Oreo Pops for the 4th of July – https://www.happinessishomemade.net/patriotic-oreo-pops-for-4th-of-july/
Swim 'N Fun wants you to make your pool party pop! We are a full-service pool company that has been serving Central Florida since 1986. Get your pool sparkling blue and ready for guests. Stop by our location for your in store FREE water testing. Once your water has been tested, our staff can recommend the chemicals that you will need to get your pool ready party action! We have the Big Green Egg available as well as a wide array of pool toys and accessories. Stop by our store located at 1315 Tuskawilla Road in Winter Springs to get your pool ready for your Independence Day celebration. We look forward to serving you. Happy 4th of July!